"And it wasn't until we were in the lifeboat and rowing away, it wasn't until then I realized that ship's going to sink. It hits me there."
- Eva Hart, Titanic Survivor
The current economic climate means that redundancy is all too common. Companies of all sizes, even those with huge cash reserves, are letting staff go as a
prudent
action for financial survival and stability.
Ordinarily the threat of redundancy comes as an unwelcome, though not always unexpected, guest. After all, who wants to be deprived of their livelihood? Who wants a break in their employment history? Who, indeed, feels they can afford it? Who wants diverting from their career path, with all its investment of time, effort and goodwill? Very few.
Sadly however, for some employees, redundancy actually can come as a welcome escape.
A friend commented that the organization they work for is in difficulty. Naturally it is shedding jobs, and people with them. The normal response is to empathise about job worries, but this didn't seem to bother my friend, who instead demonstrated greater regret that he had not yet been shortlisted to lose his job. His opinion was chillingly stark -
"They are the lucky ones, every redundancy is a lifeboat, everyone else is going down with the ship."
It is easy at such a moment to think critically of my friend, especially if we know others who lost their jobs, and to tell my friend to buck up and count himself lucky. But having some understanding of how his employer has been operating of late, and looking at the far horizon for what is to come for him and those that are left, I actually cannot blame him. In the distance are icebergs, rocks and reefs a-plenty - but the same "ship" is expected to manage all these in spite of having fewer hands on deck. My friend predicts overwork, increased management scrutiny, exhaustion, bullying and burn-out. No wonder he sees those "let go" as the lucky ones.
More for less - the perennial management oxymoron
It is often difficult for managers to put themselves in the position of their employees, indeed some even have difficulty accepting they have feelings at all given their behaviour (but there is another post entirely). But more importantly too often managers cannot even accept what their employees tell them about their own job roles.
At times of stress and crisis this essential management skill is even more impaired, and can lead to significant lapses in judgement that can accelerate an organisation's journey to the bottom.
"More for less" is a glib phrase that trips lightly off the tongue and emits such overtones of "good financial policy" and "efficient use of resources" that the obvious meaning is frequently overlooked. It is worth taking a moment to break it down. Ask the following questions:
More what?
For less what?
Ordinarily we might expect at the bottom level this to mean more productivity (increased quantity or improved quality or both) for less investment (reduced costs).
Having the answers to that, then ask - from whom? The productivity is of course from the staff, and the reduced investment (or money) is from the organisation and its suppliers or investors.
Actually that doesn't seem like too bad a plan - and, in terms of wider strategy, of course this is what every company wants - especially now.
The problem is that the analysis usually gets no further. It stops at the executive summary, and no one is asking -
yes, but how will this actually be done?
Or if they do ask, the replies are as glib as the strategy, such as:
The workers will just have to improve their time management
We will have increase worker scrutiny to ensure compliance
Or (and I have heard this one), we will have to be more forthright with our staff about what is expected of them (as if not communicating "directly and without evasion" is why they struggled to achieve something).
All terrible, blatantly poor examples of leadership, that sometimes make me embarrassed to have connections with some senior managers.
And because of that, what tends to happen, is that workloads get bigger instead of getting smarter, then becoming overly dependent on demanded goodwill, and unsustainable.
In the end, you don't get more for less, you get less for less, so you'd better make sure the less you do get are the things that are worth more. If we're making bricks and digging diamonds, and I lose half my workforce, I'll stick to digging diamonds thanks. Which leads on to an essential element - prioritising.
Prioritise, prioritise, prioritise
It should be the management
mantra for setting targets, but sadly it isn't. More common is,
do this extra thing, and this, and this as well, oh, and this too, and in the same time you used to take
. Which is a strategy that must assume that up to now your workforce must have been massively under-utilised. Right?
In fact, it is highly unlikely that such an approach will actually achieve what you are asking without some sort of compromise, either in the quantity or the quality. As a result, the expected improvement in the input/output ratio will not happen, or if it does, only superficially.
What ought to happen is, of course, that at times like these we identify and do only those things that actually bring about our objectives. Managers need to ruthlessly examine all aspects of what their workers do and begin culling all non-productive activities.
Prioritise, prioritise, prioritise actually translates into
must do, should do, could do
. Clearly identifying what is most important for meeting the organisational objectives, and relegating any superfluous activity to the
could do
pile, regardless of the history or internal politics behind them.
Work activity and objectives must be aligned and prioritised so that leaders can reasonably expect that the most important things are actually done first.
Drowning while busy
Failure to do this, and subsequent failure to release the fewer remaining workers
from the least valuable parts of their former workload is like asking the waiters in the restaurant on a sinking ship to help bail water out of the hold while still maintaining their appearance and ensuring that guests continue to get their dinner on time as well.
The ship is going to sink, and not because the workers weren't working hard enough, but because they had too many demands and all of them given as essential. This problem is made worse if workers know that all of the things are expected and they will be held accountable for their non-completion. They will genuinely try to do them all, but probably badly because it can't be done, or give up hope - in both cases failing to do the most important things well. Follow that up with a bruising appraisal and we have what my friend is predicting - overwork, increased management scrutiny, exhaustion, bullying and burn-out.
I have been in meetings where managers have been unwilling to indulge the
thought
that they could do even a rudimentary "time and motion" study to establish how long they might really be asking their workers to work, in order to then have a reason to cull the more pointless things from their worker's task lists. They hoped that ignorance of the problem would allow them to blame the staff. They can if they want.
But the ship is still going to sink.
"Junior officers" undermining the "captain"
Where "Captains" are not willing to go as far as actually culling less important parts of job descriptions or work tasks, I have seen them attempt to give their workers the
professional room
to make their own decisions about prioritising. Generally this would be seen as good practice, giving workers freedom to decide what they will do, and how they will do it, sadly however not all workers have the experience or maturity, or even the will, to prioritise to best effect. Even more tragic however is when bullying "junior officers" use the workers prioritising decisions of as excuses to criticise and manipulate staff, undermining their confidence and productivity in the process.
How does this happen?
Because in these circumstances the workers have not actually had any of the expectations of them revoked, but have been asked to take on more responsibility, they can now be technically held responsible for the non-completion of far more than before, and probably more than can actually be achieved, if that wasn't already the case anyway. The boss knows this and that's why workers were given freedom to make professional judgements about their activity. The boss hopes that workers will accomplish
all
of the
must do
and
should do
and will be very pleased if any of the
could do
was achieved at all. However, bullying managers will
take advantage of anything left undone at all
, and use this against the worker. While the worker was concentrating on important things, bullys will hold them accountable for everything - after all, it is still in their job description. The bully likes it even more if an inexperienced worker mixes a
could do
with a
should do
because they can then be presented as having poor judgement.
The result is that fear goes up. Workers try to do everything (impossible), important things are done badly so that everything can be done, and we are back at the waiters letting the ship sink.
Captains and bosses need to watch out for this. Partly because of the detrimental effect it has on the most important things being done, partly because it represents a breach of "mutual trust and confidence" that is implied in all employment contracts (the possibilities for constructive dismissal claims are very real), but mostly because of the negative impact it has on staff morale which will severely undermine the stability of what you have left.
If morale is low, you know you are doing something wrong (and workers care less about the ship)
Michael Wilshaw, the new leader of OfSTED (government schools inspectors) in the UK, said something so blindingly obvious of representing poor management, that I was surprised that the UK government department who selected him didn't try to distance themselves from his comment, which was: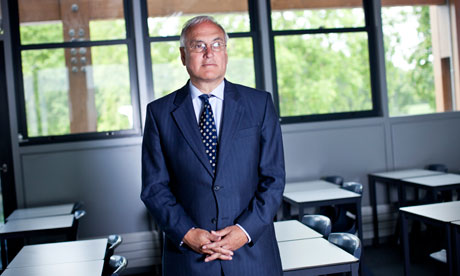 "If anyone says to you that 'staff morale is at an all-time low' you know you are doing something right."
I presume that through the redundancy process you kept who you assessed were your best, most loyal, most valuable, most talented, most enthusiastic, most able staff? Surely it is obvious that killing their morale makes all that a complete waste of time.
Those who are left, like my friend, see everyone given a redundancy package as having been rewarded - set free with a pocket full of cash, and everyone left behind as being punished (for the crime of being seen as more desirable to employ) as they go down with the ship.
Something tells me that probably wasn't what you had in mind when you started. But if you don't build morale, that is what you will have just before the ship goes under.
Once again, listen, take advice, build morale
History and business are full of lessons we should learn about failing to listen carefully, and failure to take sound advice. As we mourn the passing of the Titanic and her passengers I see that we appear to have learned very little.
My friend works on a land-locked "Titanic", it is in danger of going down, but the approach being taken to save it will fail if everyone left on board wishes that they had been offered a lifeboat. A sinking ship with a crew that does not want to be on board, or no longer cares if it stays afloat will not survive for long.
What is the solution? Everyone left needs to feel that they are in fact the lucky ones. Get building morale, challenge and hold accountable those who tear it down. Your ship's survival depends on it.